While homeowners are rightfully concerned about fire damage, the truth is that water damage is seven times more prevalent than fire in the modern home. 
Those damages lead the average homeowner to spend up to $4,100 on water remediation services. Should that water damage lead to mold, the costs to remove it could rise up to $6,000.
Though those numbers are unpleasant to consider, especially for new homeowners who are just starting their home-owning journey, they're almost entirely avoidable.
In fact, despite the high rate of occurrence of water damage, 93% of water damage is preventable.
Thanks to the advent of automatic water leak detection and shut-off systems, much of that damage can be reduced – or even prevented entirely. 
What Kind Of Leaks Can Be Prevented By Leak Detection Systems
Leak detection systems are designed to work with your plumbing system to reduce or eliminate leak-related problems. That includes damage caused by leaks from pipes, plumbing fixtures, hot water heaters, appliances, and heating and cooling systems.
Those are the kinds of leaks, especially behind-the-wall leaks, that can cause mold and property damage that are costly to repair.
Other than leaks coming from roofs, windows, or other exterior leaks, this type of leak detection system is ideal for monitoring your home's plumbing system.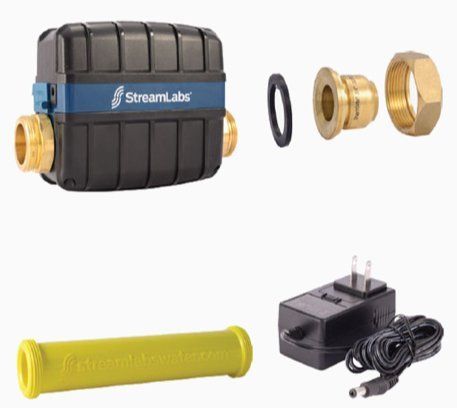 Connecting Your Smart Home To Your Home's Plumbing System
Now, these automatic systems are being combined with smart home technology to give consumers even more understanding of their homes.
The smart home trend, which sees homeowners installing smart doorbells, motion-tracking cameras, and climate control, allows more insight and control over our homes.
Those benefits now extend to your plumbing systems, too, to detect leaks and alert you – even when you're not at home.
How Smart Water Devices Work To Detect Leaks
So, how does it work?
These smart water devices are considered "in-line" and easy to install.. By employing ultrasonic technology, this smart water technology is able to measure the water flow inside your home's pipes.The time delay in the sound waves allows insights into the water's flow. This data is recorded and analyzed inside the system's app.
Beyond this information, a modern smart water leak detection system then combines this live water flow information with other valuable data. This includes comparative and historic water charts to understand how water usage is changing, and if any sudden changes merit attention.
Industry leaders like StreamLabs also integrate a learning mode in their proprietary app. This lets the app track your home's typical water usage patterns to better alert you to abnormal usages or leaks. 
Notifications can often be further customized to include high and low inline water pressure, humidity, and water temperature.
How Residential Leak Detection Systems Keep Your Home Safe
The successful installation of a residential leak detection system often allows for two types of control over your home.
The first is monitoring. By tracking your consumption and receiving real-time alerts about possible leaks, you can stay ahead of water issues, including both major and slow leaks.
The second is control. Often involving an additional, easy-to-install device, this is a more involved setting which allows you to stop water leaks with the tap of a button. If you receive a worrisome alert, you can remotely activate the device's built-in shut-off valve. In this way, you control your home's water from anywhere. On vacation and get an alert? Turn off the water from your hotel room, anywhere in the world.
Next Step For Your Own Residential Leak Detection System
Though common signs for leaks include excessive humidity, low water pressure, or higher-than-normal water bills, it's often prudent to be active instead of reactive.
So if you're considering installing a leak detection system in your own home, then we encourage you to get in touch with our certified technicians at Mid-Atlantic Water Services. 
We have over 75 years of combined knowledge, and we look forward to providing you with a free consultation to get the right system for you and your family.